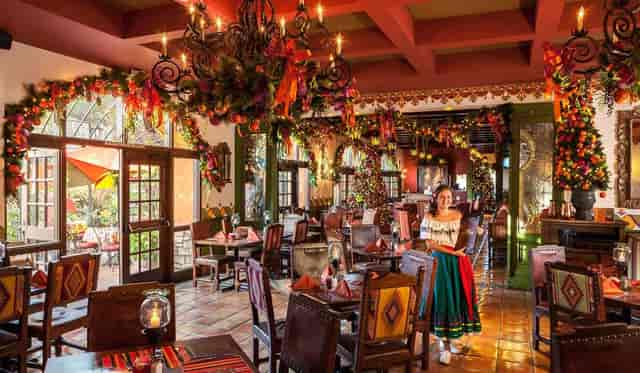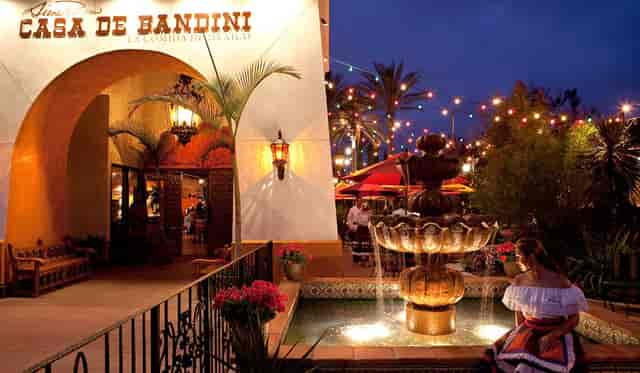 Site Description & Capacity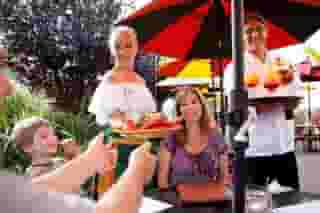 Patio
West exterior patio – Our large west patio is encompassed by a lush, vibrant garden of hand-picked succulents, cacti and assorted flax plants. The patio is a showcase for our large stone fountain, transported here from our original location in Old Town, San Diego. The large patio is perfect for dining under the stars, a private banquet up to 70 people or quick lunch in an exotic setting. During the summer, our patio bar ensures a quick return of our world-famous frosty margaritas.

The entire patio consists of 27 tables and can seat up to 125 guests.

North cocktail patio – Enjoy weekday happy hour at our north cocktail patio, where we offer appetizers at half-off and discounted beverages between 4-7 p.m. Great for a quick get-together between soccer practice or PTA meetings, this area seats up to 30 guests comfortably under our covered archway.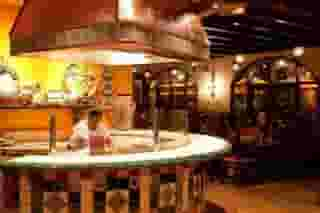 Dining & Tortilla Station
Grand Dining Room – our main dining area is adjacent to our tortilla station where our talented staff hand-make fresh corn and flour tortillas, providing an abundant supply for our guests to enjoy. Vibrant orange and rust hues trimmed with our hand-painted stenciling set the tone for our main dining room. The main focal point is the east wall which showcases an exquisite collection of classic mirrors, placed in the original manner as in our former location Old Town San Diego. Our large dining room is reminiscent of what you would see in early California haciendas from the expansive open-beam ceiling to our beautiful Saltillo tile floor. The dining room comfortably seats up to seventy guests using sixteen hand-polished wooden tables.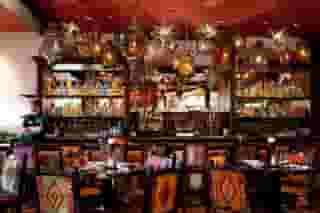 Dining Room
Main Bar – our main bar area is perfect for happy hour. We have eight high top tables and nine low top tables which can seat up to sixty-five guests comfortably. Our beautiful mirrored back bar showcases the large assortment of unique tequilas and wines we have available and the entire room is illuminated by an assortment of hanging chandeliers from ornate to unique leaded colored glass stars, globes, and beautiful teardrop luminaries.

Another focal point is our large, hand-carved roll top cabinet displaying unique handcrafted art and pottery. A keen eye will also pick out the collection of traditional vaquero sombreros beautifully preserved on display above our dual bar cabinets.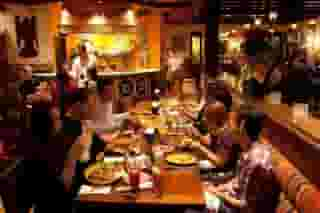 Sala De Santos
Sala de Santos -Beautiful artifacts and figurines depicting images and representations of saints and cultural folk art from Peru, Mexico and other central American locations. Some notable items include beautiful canvas oil paintings of archangels Gabriel and Michael as well as a beautiful ornate alter of the Virgin of Guadalupe. The walls are hand-painted with intricate stenciling, amid a room illuminated by two beautiful, wrought iron chandeliers. This room is our main interior party room able to accommodate groups of twenty-five up to seventy guests using 14 hand polished wooden tables.